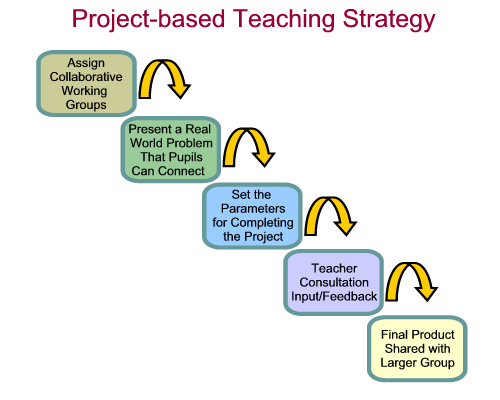 Project-based Learning Visual Concept Diagram
Description
Project-based learning shifts away from teacher directed learning to more pupil centered learning activities that focus on real world issues and practices. Characteristics of PBL are built on inquiry strategies that foster natural curiosity of real issues and concerns affecting the lives of the pupil and focus on developing skills that enable pupils to rely on strategies to resolve complex problems encountered by daily living. One of the many benefits of PBL is that is provides motivation for pupils to engage in learning that is self-directed and based on their own interests. It creates the framework for constructivist teaching and learning that promotes meaning to what otherwise would be compartmentalized learning that sometimes lacks connection to anything real or applicable to the life of the pupil. Another important benefit of PBL is that it aims to develop many of the skills desired by 21st Century employers, including the ability to work well with others, be thoughtful and reflective in decision-making, take initiative, and solve complex problems.
Principles of Project-based Learning
In practice, PBL sets the stage for the inquiry to take on a life of its own.
Pupils work together in groups and collaborate on project activities.
A real world problem that affects the life of the pupil(s) is presented for investigation.
Pupils discuss findings and consult the teacher for guidance, input, and feedback.
The maturity level of pupils' skills determines the degree of guidance provided by the teacher.
Final products resulting from PBL can be shared with the community-at-large, thus fostering ownership and responsible citizenship in addressing real world problems.
Procedures
Assign pupils into small groups, either randomly or using cooperative learning principles.
Present a real world problem to the pupils or depending on the skill set, let the pupil(s) decide from possible topics to choose.
Set the parameters or structure for accomplishing the task (due date, length of assignment, rubric that will be used to evaluate final product, etc.)
Encourage pupils to take turns leading the group activities making sure all pupils are participating equally in completing the project assignment.
Check with pupil(s) on their progress in increments depending on the depth and breathe of the project assignment. Give pupils scheduled dates or times that they should check in with you regarding progress.
Optional: A log of activities can be kept to keep track of ongoing progress.
Schedule enough time for pupils to display or present their projects once completed to the total class or the school community at large.