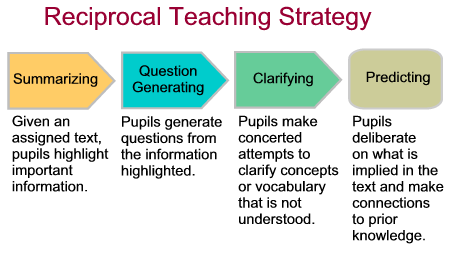 Reciprocal Teaching Visual Concept Diagram
Description
Reciprocal teaching is a strategy used to help pupils develop a better understanding of what is presented in any given text. It encourages interactive dialogue or discussion between teacher and learners and is mostly used with pupils who have adequate reading ability. A benefit of reciprocal teaching includes helping pupils to read and strategically learn textbook material in a systematic manner. The developmental stages and ages of pupils determine the role that the teacher plays in modeling the strategy or actively facilitating the interactive dialogue or discussion.
The Four Principles of Reciprocal Teaching
Summarizing-
Pupils tell or explain what they have read from any given selection from a text. Pupils summarize and highlight (can be in the form of an outline) the important information in the text.
Question Generating-
After reading and summarizing the selection in the text, questions are formulated related to the information. These questions are meant to help pupils further understand the selection that has been read.
Clarifying-
Any concepts or vocabulary that is troublesome or difficult to understand is discussed. Attempts are made to clarify the concepts or words either by the teacher or by utilizing available resources to help bring meaning and clarification to the passage or selection in the text.
Predicting-
Pupils further discuss the selection in the text and make predictions about what will follow in the text. Pupils rely on prior knowledge at this point and attempt to make meaningful connections related to what they are reading and what they already know.
Procedures
A selection of any given text is distributed or assigned to pupils individually or in a group (a teacher can also be included in the reading of the text depending on the ages and stages of pupils).
A discussion then takes place between teacher and pupils (or between the pupils assigned to small groups) about the selection.
If small groups are used, a group leader is assigned. In any case, a discussion leader leads the discussion on a given passage or selection and creates a summary of what was read, generates a question or set of questions to explore, identifies concepts or terms that need clarification, and leads the discussion that will ultimately determine a prediction about what will be discussed next in the text.
Optional: Notes can be taken to keep the momentum going as pupils progress through each selected text.