What is Hyperbole?
Hyperbole is termed as a kind of a figure of speech, in which the speaker purposely exaggerates any event. It is mostly used to emphasize any statement to make it more creative or humorous. However, keep in mind that hyperbole should not be taken seriously, and the audience should know that. For instance, "I watched this movie for the millionth time.". Even if the person saying it is 90 years old, he would not watch a movie for a millionth time, no matter how frequently he watches it. It's just an exaggeration to tell the audience that the person loved the movie.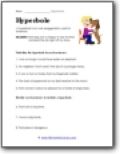 Where is it used and rewrite a few sentences.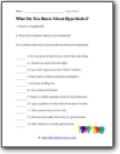 Put a check mark next to the sentences that are hyperboles.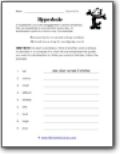 For each word below, think of another word or phrase to describe it, or compare it to, that will over emphasize the quality you want to call attention to. Write your word on the lines. Follow the example.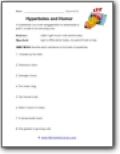 Make these sentences very humorous.

Create four different hyperboles to describe how hot it is outside.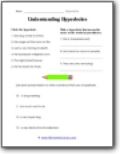 Use each prompt below to write a sentence that uses a hyperbole.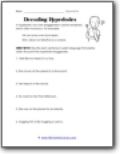 Rewrite each sentence in plain language that plainly states the point the language exaggerates.