How to Cite Sources
When writing academic papers, research papers, or research articles, we need to back our statements with facts, studies, and statistics. We cannot create this factual information on our own, so we need to use authentic resources and create citations. While writing research essays is a challenge, creating citations comes with a higher level of difficulty, and many students cannot do so. If you are struggling to cite sources, here is how you can do it. First, you need to understand that you need to include a citation as proof of the source whenever you are referring to someone else's work or quoting them. Not only does it add weightage to the research essay, but it also helps in avoiding plagiarism. There are different writing styles, and each has a unique way of creating citations. For APA format, use the author-date method of in-text citation. It includes the author's last name and the year of publication for the source should appear in the text. One complete reference for each source should appear in the reference list at the end of the paper. Talking about the MLA format, we use the parenthetical citations. The method is about providing relevant source information in parentheses whenever a sentence uses a quotation or paraphrase. For IEEE, use bracketed numbers to create in-text citations. For the ASA writing style, you have to use the author's last name and publication year.

It also gives proper credit to other writers and researchers for their ideas.

A slightly tilted format for you to work with.

A twist on something we have already explored.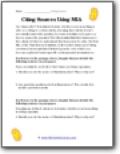 We give you a work to break down and explain how you would process it.

Rewrite each in-text citation as indicated.

Rewrite to include the source name in the text.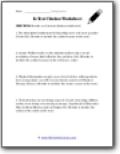 You need to fix everything this author messed up.