How to Improve Your Letter Recognition
The letter recognition process is essential to learn and understand the English language as it is an international language. Better alphabet recognition helps you in arranging words in the correct order and random order. Then, the next step of that letter will be its sound or pronunciation learning skills. Initially, you will have to start the alphabetical order with three to five letters at a time. Alphabet Memory Game - Make separate cards and write each letter on it. Initially, start the game with three to five letters. Then, you will end it with other alphabets by increasing its numbers as per the mind of the learner. Hide the notes written on each card and arrange all of them in a row or columns. After finding matching pairs, you will set aside those cards. If you do not see its match, you will again set it at its place. Repeat the process and also announce letters as you turn them over. Sorting Tray of ABC - You can play this game only when you have a tray of a separate section. If you have it then, label each area with a letter. Either it would be best if you had a bowl of foam alphabets, or you will have to write white beans. Then, let your child find the correct letter from the right section of the tray.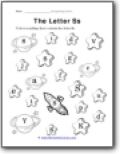 Color everything that contains the letter Ss.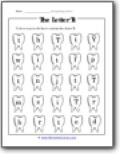 Color every tooth that contains the letter Tt.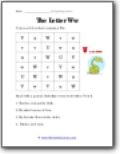 Read with a parent. Underline every word with a Vv in it.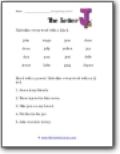 Underline every word with a Jj in it.

Color every coat with the letter Cc in it.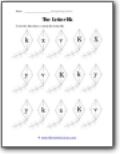 Color the kites that contain the letter Kk.
Tips for Learning Your Letters
Children need to learn the 52 letters of the English language. This is the basis of learning new words and then using them to make sentences. For young kids, memorizing the letters may become challenging, so here are some ways to make the task easier. Both parents and teachers can help children learn letters through these simple techniques. Make sure you help the kid learn both the letters and letter sounds. Knowing both will help them read and write. Watch online videos. They are interesting to watch and often have jingles which help the kids learn the letters. These videos also show objects associated with each letter, and because they are visually appealing, kids find it easy to learn from them. Make flashcards, and practice with the kids daily. First, teach them the names and sounds of the letters, and then quiz them every day to keep them in practice. Gradually, help them learn the words which begin with the letters. Help the kids solve worksheets. You can find plenty of useful resources online and can even create them on your own. Find ways to help kids differentiate between confusing letters like 'b' and 'd'.

Say the name of each picture in Column 1. Listen to the beginning sound and draw a line to that letter in Column 2. Match each picture with the words in Column 2. Circle the first letter of each word.
Teaching Students to Recognize Letters of the Alphabet
Teaching students is quite fun but equally agitating. There are so many things that feel rewarding when students learn something but getting them to learn new concepts is exceedingly difficult. However, it is not as complicated as it might seem, especially when it comes to teaching them the alphabets. One of the easiest tricks to help students recognize the letters is flashcards. When you repeat the flashcard process, you can help them learn the letters. Another way is to associate objects with letters, for example, a for apple and b for the ball. You can also help them learn the alphabet by making them write them down. This will make them learn easily.
How to Spot Letters Within Words
Another important skill to learn for kindergarteners is to spot letters within words. Even though this is an alphabetic principle, but making the children understand it is still essential. To make them understand this concept, there are a few things which you must keep in mind before you teach them. Letters represent sound and combined to make words. Changing letters can also change their sounds. Now, many activities can help students to spot letters within words. Let us discuss a few of them. One of the most effective ways to make children understand the concept of spotting letters within words is by reading. Now, your role will be to help them by picking out a random word and tell them the connection between each letter. It is the unarguably the best method of ensuring that your children understand the sound of letters within words. This method is mostly used by kindergarten teachers, which forces children to learn the most common sounds words make. It can further help children in paying attention and also assist them in performing reading as well.
How to Learn the Upper and Lowercase of Letters
Whether to teach the preschoolers about the upper and lower case letters is still a debate in the teaching world. Some educationists are of the opinion that preschoolers must be taught about this 'big' and 'small'. Others, however, think that it is not quite the appropriate approach. The reason for the former approach is that many educationists think that upper case letters can be easily told apart from each other. Also, they think that instead of learning 52 letters all at once, it is easy for students to learn 27 letters of both the cases separately.
What Are the Components of Letter Recognition?
A lot of students struggle with letter recognition. While it seems like the simplest thing in the world, but it is not the easiest task for the kids. Showing flashcards and doing similar activities might temporarily help them, but in the long run, it will be of no use. When children are starting to learn, they need to be introduced to four components of letter recognition. These components include; The first component that we need to talk about is the recognition of the letter. It is one's ability to recognize the shape and size of the letter. The second component revolves around the naming of the letter. It is one's ability to recognize the shape of the letter associated with a letter name. The third component revolves around the sound of the letter. It is what talks about the sound that corresponds to the shape or name of the letter. The fourth and the last component is about writing. It is one of the abilities to trace or write the letter with a pen in accordance with its shape and direction. These are the four components that every student needs to be educated about, as these play a crucial role in helping a student recognize letters with ease.
How to Practice Letter Recognition
Letter recognition is the first step to learn and read something in the English language. Pre-K, Preschool, and kindergarten students need to practice letter identification. Here, we are going to highlight some rules about letter recognition. Letter Basketball - It is one of pre-kinder letter recognition activities every year. Cut paper or newspaper in half and write a letter on several pieces. Distribute each article among children with one or two extra sheets. Spread the trash four feet away from the line that you made with masking tape. Let students find the letter which you told them. Toss the letter into a trash can by picking up the correct message and crumbling the paper into a ball. Set different rules to send in the basket. Suppose they miss while bowling, give them many chances and let them come closer if they need. Cheer them when they become successful. Letter matching with candy - Make letters on sticker dots with white paper and stick them on the bottom of many Hershey's Kisses Chocolate. Tell players to pick five to ten pairs of letters at a time. They will have to pick two chocolates at a time, and if they miss or don't match, they have to take them back. In the end, each child picks three pieces to eat. It is the best practice of letter of recognition for pre-K kids.