What are Word Families?
A family is a group of people that all belong to a common line of ancestors. Similarly, word families are a group of words that obey a common pattern or a feature. Word families serve as an exceptionally useful tool for students who are new to spellings. These have similar sounds; follow the same letter combination. The National Council of Teachers of English says there are 37 common word families. The most common word families are that of 'ack,' 'ay,' 'ink,' 'ain,' 'eat,' 'ip,' 'ake,' 'ell,' 'it,' 'ale,' 'est,' 'ock,' 'all,' 'ice,' 'oke,' 'ame,' ick,' 'op,' 'an,' 'ide,' and many others. Getting familiar with these word families aid a student's capability of reading and also helps them build a rich vocabulary bank. For starters, this is a perfect spot to begin. By getting to know these word families, a student can gradually move towards learning difficult words as it helps to build a foundation for them to step on.

Unscramble the words. What two word families are represented?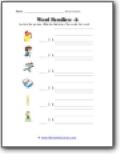 Look at the picture. Fill in the first letter. Then write the word.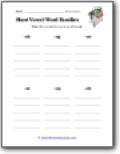 Think of five words that satisfy each of these features.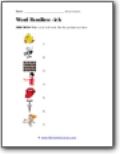 Write each -ick word. Use the pictures as clues.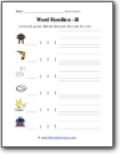 Look at the picture. Fill in the first sound. Then write the word.

Write each -ing word. Use the pictures as clues.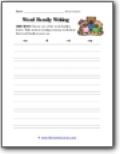 Choose one of the word families below. Write sentences using as many words from that word family as you can.

Which letter starts off each word?

We are looking for the letter at the beginning of each word.