What Are Character Traits in a Story?
There are so many interesting things that we learn in the English Language, but one of the most fun things that come with English is story writing. Now, within the story writing stuff, there are millions of things that contribute to making it interesting. One of the essential parts of story writing is the characters in the story and their traits. Do you know what character traits are? Let us help you. Character traits, like real people, are the habits and the ideas that make a character non-imaginary. They help the reader understand what the character is all about. Tall, short, bitter, sweet, salty, sarcastic, kind, etc. they all make a reader better grasp what the person in the story is really like!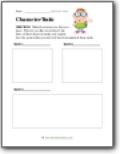 Think about someone that you know. What do you like about them?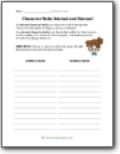 Choose a character from the story. Identify their internal external and internal traits.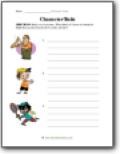 Study each picture. What kind of character traits do think that person has based on the picture?

Choose a public personality that you admire, like a YouTuber, actor/actress, singer, etc. In the box, draw a picture of the person. Then list 10 character traits they possess.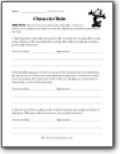 Read about each interaction. Identify a character trait in each passage and write it on the line. Explain your answer by referring to the text.
Think about your pet or the pet of someone that you know. List as many of their character traits as you can think of. Draw a picture of the pet.

Choose a character from the story. Identify three main traits of the character. Cite text evidence to support your answers.