What Are Character Traits in a Story?
There are so many interesting things that we learn in the English Language, but one of the most fun things that come with English is story writing. Now, within the story writing stuff, there are millions of things that contribute to making it interesting. One of the essential parts of story writing is the characters in the story and their traits. Do you know what character traits are? Let us help you. Character traits, like real people, are the habits and the ideas that make a character non-imaginary. They help the reader understand what the character is all about. Tall, short, bitter, sweet, salty, sarcastic, kind, etc. they all make a reader better grasp what the person in the story is really like!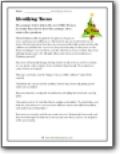 Read the passage, then answer the questions.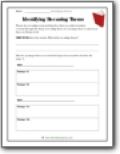 Read the stories. What is the recurring theme?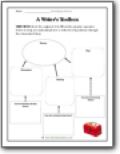 Read the assigned text. Fill out the graphic organizer below to help you understand how a writer develops theme through the elements of story.

Identify the topics and themes explored in the story. Complete the table.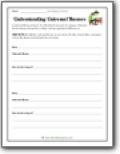 Universal themes transcend gender, culture, and geographical differences.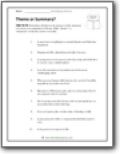 Determine whether each sentence is the summary of a story or an expression of theme.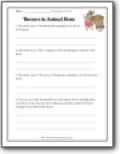 Choose one of the themes that you articulated. Identify when and where in the story the theme first appears. Then explain how that passage demonstrates the theme.