What is Character Education?
It is a learning process that helps students to learn academic and curriculum ethics. They also understand school community behavior and how act on ethical values like justice, discipline, respect, and civic virtue, sense of responsibility, etc. These are the qualities that every academic candidate must have for the save, and healthy school environment as the base of educational community. Character education relates such type of teaching that let students learn how to cooperate and the academic journey in discipline. Your character and moral qualities also an integral part of your career building that are honesty, caring, responsibility, respect, and fairness. With all these hallmarks, there will be a peaceful environment for life and work together. The center for International leadership in education announce 12 guiding principles for character education that are: Adaptability - Enthusiasm for change. Compassion - It refers to kindness. Trustworthiness - Reliability for trust building. Respect - Moral motivation, building honor. Optimism - Practice of positivity to make things positive. Perseverance - Hard work to conquer the world. Responsibility - Accountability. Loyalty - Dependability and faithfulness for work and performance. Honesty - Truthfulness while managing academic things. Initiative - Enthusiastically willing to all curricular tasks. Contemplation - Desperate consideration on work and studies.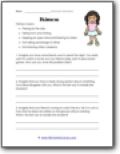 Imagine you have some friends over to spend the night. You really want to watch a movie, but your friends really want to play board games. How can you solve the problem fairly?

Think about a time when someone did not treat you well. What happened? What aspect of good character did they fail to display? What did the experience teach you about good character?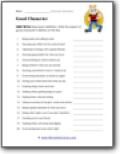 Read each definition. Write the aspect of good character it defines on the line.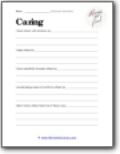 In the sense for others and yourself.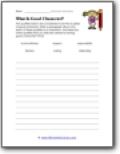 The qualities below are considered to be the six pillars of good character. Write a paragraph about why each of these qualities is so important. Are there any other qualities that you feel are central to having good character? Why?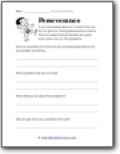 If you have perseverance, it means that you do not give up. Having perseverance means that you keep moving towards your goal, even when you run into problems.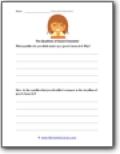 What qualities do you think make up a good character? Why?