What Are the Differences Between Points, Lines, and Planes?
| | | |
| --- | --- | --- |
| Points | Lines | Planes |
| In geometrical terms, a point is a location and is shown by a dot. | On the other hand, a line is defined as a series of points that extend in two directions. | A plane extends in two directions and has no thickness. |
| It has no size; like, length, breadth, depth, etc. | It has one dimension and the points lying on a single line are colinear. | Consider the example of a coordinate plane, which has multiple points but are connected. |
| It does not have to connect with any other object as well. | | |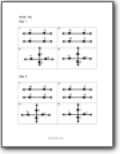 A pair of lines will be described in words and you must draw them.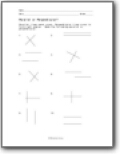 Parallel lines never cross. Perpendicular lines cross to form right angles. Name the following parallel or perpendicular.