What is Pi Day?
We all know what Pi is. It is a mathematical constant represented by the lower-case Greek letter π. It is the ratio of a circle's circumference and diameter. It can help us measure angles and understand many different things about circles. The value of Pi is 3.14592654 as per the calculator, and you can also write this as a fraction 22/7, even though it is an irrational number. While we are aware of Pi and its uses, many of us don't know about the 'Pi Day.' It does sound like a festival name, and it indeed is. Taking place every year on March 14th, this day is all about celebrating this mathematical constant 'Pi.' It is celebrated on this specific day because 3, 1, and 4 are the first three significant numbers in this constant.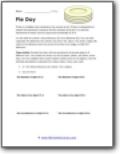 Provide the class with an assortment of circular objects of different sizes. You could use circles cut out of paper, plates, pie plates, pizza trays, or even cookies! Have each student choose one or two objects.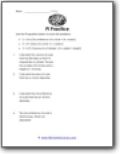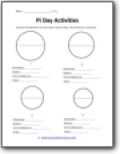 Measure the diameter of each circle. Find its radius, circumference, and area.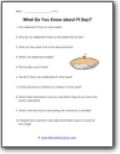 What is an irrational number?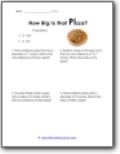 Roberto made a mini pizza crust that has circumference of 15.7 inches. What is the radius of his pizza?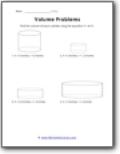 Find the volume of each cylinder using the equation.