What is the Summer Season?
You love holidays, don't you? Then you must be desperately waiting for summer vacations! We do we get holidays in that season, but do you know what summers are? Let us take a look! The summer season is one of the four seasons that occur around the year. Among the four seasons, it is the hottest season of the year. This season is when the people have to face the scorching heat of the Sun. During the summer season, the days are longer, and the nights are shorter. Mostly, the summer season occurs in the northern and southern parts of the Earth. In the Northern parts, the summer season ranges from April to September while in the Southern region, the season occurs from December to March months. During the summer season, people enjoy going to the beach and visiting cool places. Eating different varieties of fruits such as watermelon, mangoes, grapes, and vegetables like cucumbers to beat the heat. People go out to visit different places with their families during the summers.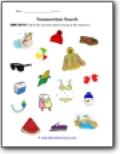 Circle the pictures that belong in the summer.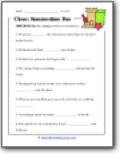 Fill in the missing word in each sentence.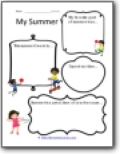 Tell us all about what you plan to do.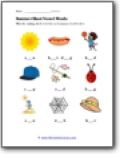 Fill in the missing short vowel in each summer word below.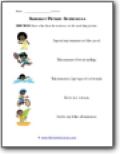 Draw a line from the sentence to the matching picture.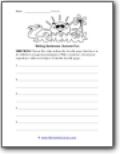 Choose five objects from the doodle page that have to do with how you spent your summer. Write a sentence about your experience with each object. Color the doodle page.