What is the Winter Season?
Ahh, winters! BRRRRRR! Doesn't just its name make you feel cold already? Let's see what the winter season actually is and how it begins! One of the four seasons that change around the year, winters are the coldest time of the year. Winters mark their arrival after spring and before autumn. Winter starts after the winter solstice when the Sun reaches its highest position in the sky. Since the Earth is divided into two hemispheres, the arrival of winter in both the hemispheres is different. In the Northern hemisphere, the winter starts by December 21 or December 22 while in the Southern hemisphere, the winter usually starts by June 21 or June 22. In various parts of the world, winter brings cold and icy winds. Most parts of the world also experience snowfall. Children make snowmen; people take vacations and enjoy skiing. During this season, many animals also hibernate, while the deciduous trees have no leaves.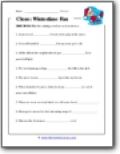 Fill in the missing word in each sentence.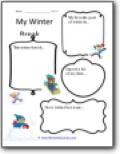 Tell us all about your break.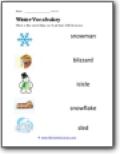 Draw a line matching each picture with its name.
Draw a line from the sentence to the matching picture.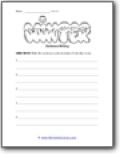 Write five sentences about winter. Color the word.